UCM
The transformative enterprise-grade communication solution
The iPECS UCM is the industry-leading Unified Communications (UC) solution for large enterprises. Its unparalleled features, reliability and security make it the perfect choice for any large business.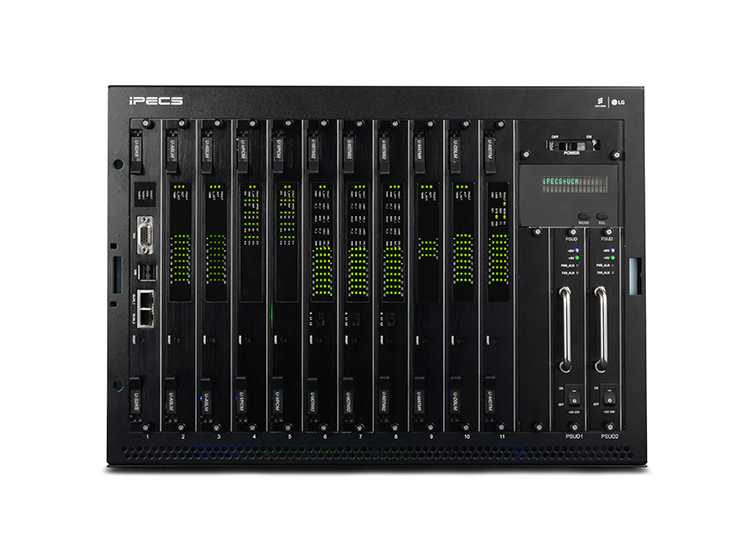 Grow your system
The system can easily be scaled to accommodate the largest businesses with upwards of 960,000 users. Easily add new lines, new users and new hardware as your team or sites increase in size. Whatever your growth strategy, choose a system that will expand seamlessly with you.
Acquire peace of mind
Enjoy multiple high availability options to give complete system resiliency, protecting against possible network outages. With security breaches on the rise, protect your business and customers with built-in advanced encryption.
Save on communication costs
Large numbers of calls between sites can quickly become expensive. You can easily network multiple sites together to dial locally between locations, saving a significant amount on call charges. Choose the PBX that allows you to reduce costs without compromise.
Reduce infrastructure costs
Take advantage of distributed system architecture and save on infrastructure costs by reducing the need for excessive amounts of cabling. Simply add extra modules to different sites or locations and network them all together.
Benefit from unified communications
Improve your business efficiency with integrated UC features. Benefit from multiple collaboration tools through an easy-to-use application. Bring your team closer together no matter their location and watch productivity thrive.
Integrate productivity tools
Improve your team's productivity through integrating your vital business systems with your communication platform. Exploit integrations into numerous third-party software including email and CRM, or easily integrate using the open API.
Up to 960,000 ports
Active-Active failover
Open API support
Distributed architecture
Geographical redundancy
System encryption
SIP and IPKTS support
UCS application support
Hot desking
[Hospitality] iPECS UCM solution – Isrotel, Israel
[Transportation] iPECS CM solution – METRO ANKARAY, Turkey
[Corporate] iPECS CM solution – Oxleas NHS Foundation, UK
[Corporate] iPECS CM solution – Hana Tour, Korea
[Corporate] iPECS CM solution – Bingre, Korea
Drop Us a Line Anytime
Contact us any time and one of our team members will be happy to help you